Dear  Community,
The health of our community is incredibly important.  We are all doing our part to stay home and keep ourselves and those we cherish safe. We will get through this and CMHA Shuswap-Revelstoke has made the difficult decision to cancel The Shuswap-Revelstoke Ride for 2020.
At a time when so many people are worried about their future, their health, and their financial stability, going forward with this fundraiser just does not feel right.  We are confident that when we get through this – CMHA Shuswap-Revelstoke and our community can once again come together to ride and walk in 2021.
We are so immensely grateful for the outpouring of support the event has seen across the community. From day one, each of you has rallied together for this, whether it be as riders & walkers, donors, volunteers or sponsors – you've all been there. We cannot thank you enough.
The money raised through this event has always gone to the CMHA Shuswap-Revelstoke mental health promotion and services that are there so no one has to feel alone. This is the work we have always done. This is the work we continue to do.
What feels right – right now is for us to focus our collective efforts, as an organization, so we can continue to support those in need to better manage in this crisis. CMHA Shuswap-Revelstoke staff have been quick to pivot and we have been able to continue to offer our programs and services – helping those who need mental health support.
I hope each of you has an opportunity to find balance in our changing circumstances. Please don't overlook the importance of looking after yourself. And that includes paying attention to your mental health. Be there for yourselves. Be there for your families and friends. Most of all, be well.
To stay up to date across BC, use the below link to learn more about expanded services and new programs to support the wellness of British Colombians at our COVID-19 page: https://cmha.bc.ca/covid-19/
Below is an overview of our local CMHA education and services, please due reach out as we do provide support for workplace and/or individual mental health needs.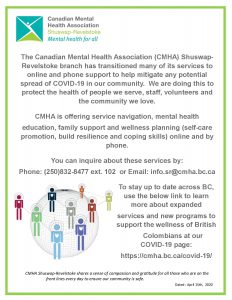 CMHA Shuswap-Revelstoke Education Series 2019
CMHA Shuswap-Revelstoke shares a sense of compassion and gratitude for all those who are on the front lines every day to ensure our community is safe.