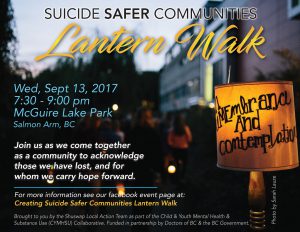 World Suicide Prevention Day happens each year in September and is a day to remember loved ones that we've lost to suicide as well as learn about, celebrate and promote suicide prevention/intervention efforts and health services that exist in our community to support those who are struggling.
For our second year of coming together as a community, the event is taking place on September 13th at McGuire Lake, and we encourage you to bring your own lanterns! Lanterns will also be supplied if you wish to walk with light.
The event is a family-friendly community event that will include music, a candlelight remembrance of those we have lost to suicide, refreshments and encourages people to get to know the services and programs in our community that support mental health.
Download poster here.